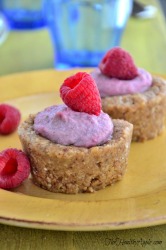 Originally Posted on September 7, 2015
Ingredients
Raw Tart Crust
4 cups raw nuts (pecans, walnuts, almonds)
¼ tsp. sea salt
½ tsp. cinnamon
⅓ cup pitted dates
Cashew Filling
1 ½ cups of cashews (soaked for a minimum of 3 hours)
⅓ cup unsweetened almond milk
zest of 1 small lime
½ cup freshly squeezed lime juice
4 Tbsp. pure maple syrup
¼ cup virgin coconut oil
pinch sea salt
1 ½ cups organic fresh raspberries (from a 6 ounce container)
Topping
1 cup organic fresh raspberries (from a 6 ounce container)
Instructions
Soak the nuts for at least 3 hours in a large bowl covered with water on the counter top. Set aside. Coat the cavities of a 12-cavity muffin tin with coconut oil; set aside.
In a food processor, blend the nuts, sea salt, cinnamon and dates until mixture forms a dough. Scrape down the sides every few minutes.
Divide the mixture into the prepared cupcake cavities and use your fingers to mold the mixture into the cavity to form the crust on the bottom and up the sides. Transfer to the fridge.
Drain and rinse the soaked cashews. Pat them dry with a cloth and transfer to a food processor. Add almond milk and puree until smooth. Add lime zest, lime juice, raspberries, pure maple syrup, coconut oil and sea salt. Puree again until smooth and well combined.
Remove crusts from the fridge. Spoon mixture into the refrigerated crusts and fill to the top. You will have some leftover filling that you can store in the fridge in a sealed container. Transfer back to the fridge to chill for at least 6 hours or until ready to serve. Before serving, remove from fridge and top the tarts with 1 cup fresh raspberries. Serve chilled.
Note: Serve any leftover cheesecake filling over coconut milk yogurt, fresh fruit or coconut ice cream.
Prep time: 6 hours
Total time: 6 hours
Recipe type: Dessert
Serves: 12
Author: Amie Valpone
Courtesy of: The Healthy Apple
(Gluten, Dairy, Soy, Refined-Sugar Free, No-Bake)