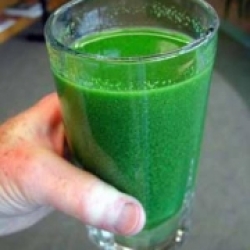 Originally Posted on May 12, 2013

In the previous post I talked about the benefits of fish oil and Omega 3's. For those who are vegan or vegetarian, a wonderful source of Omega 3's is Blue Green Algae. Using Blue Green Algae is like cutting out the middle man (in this case, the fish). Fish are high in EFA due to the algae they eat, so going straight for the algae is a fabulous vegetarian and vegan source with all the benefits.

Some of my favorite brands are:
Ancient Sun -- Blue Manna or Crystal Manna (caps or powder)
Essential Formulas -- Essential Living Oils (which are vegan oils)
Nutrex Hawaii -- Spirullina caps, flakes, powder
Nordic Naturals -- Algae soft gels

FYI: If you're not using the algae in capsules or soft gels, powders and flakes will turn food or a smoothie green. To avoid this (say for children or all days other then St Patrick's Day) mix with a red and blue fruit and it will go from green to mauve.
Enjoy!